PCA Skin Weightless Protection Broad Spectrum SPF 45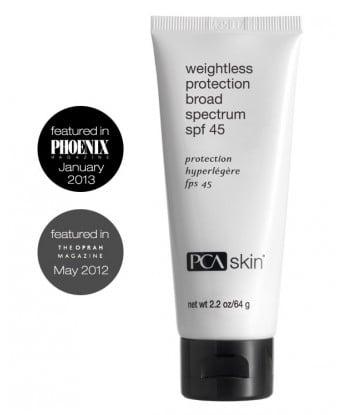 This broad spectrum sunscreen provides UVA/UVB protection with the technology of ultra-sheer zinc oxide and a blend of additional sunscreen ingredients.
It also contains the important antioxidants silybin, also known as milk thistle, and caffeine. Its unique quick-absorbing and light finish makes Weightless Protection Broad Spectrum SPF 45 ideal for patients with oily or breakout-prone skin and those who dislike the feel of traditional sunscreen products.
Founded as Physician's Choice of Arizona, Inc. by an aesthetician working with a handful of physicians, they have evolved into Physicians Care Alliance, LLC, a global organization serving over 5,000 medical practices in the United States, with products sold in over 70 countries around the globe. Throughout their history, they have consistently been referred to as PCA SKIN, a company dedicated to the science of healthy skin.
Go to: Our Sunscreen Bestsellers
PCA SKIN has been and continues to be a trusted industry leader in the development of gentle, yet highly effective professional treatments and daily care products for over two decades. With a team dedicated to serving others, our vision is to improve people's lives; they do so on a daily basis by partnering with physicians and clinicians to provide a proven process combining aesthetics and science for healthy, beautiful skin. They set the bar high when it comes to innovative skin care, being acknowledged in prominent medical textbooks as the originator of advanced blended chemical peel formulations.
PCA SKIN treatments and products are available exclusively through licensed skin health professionals that have been trained and certified by PCA SKIN in their use. PCA SKIN certification is sought after by medical professionals across the nation. The knowledge gained from their exceptional education enables professionals to build successful practices and achieve the most effective results from PCA SKIN daily care products and professional treatments.
Ingredients:
Our products are scientifically developed and carefully formulated to improve the health and appearance of your unique skin. We understand the importance of formulating with the best combinations of innovative ingredients to provide you with safe, highly effective products that deliver on their promises. All of our products are free of potential irritants like synthetic dyes and fragrances. PCA SKIN® does not perform or condone animal testing.
Zinc Oxide – provides broad spectrum UV protection by reflecting, scattering and absorbing UV rays.
Octinoxate – absorbs and filters UV rays.
Silybin – an antioxidant from the milk thistle plant that protects the skin from UV damage.
Caffeine – an antioxidant that protects the skin from UV damage.